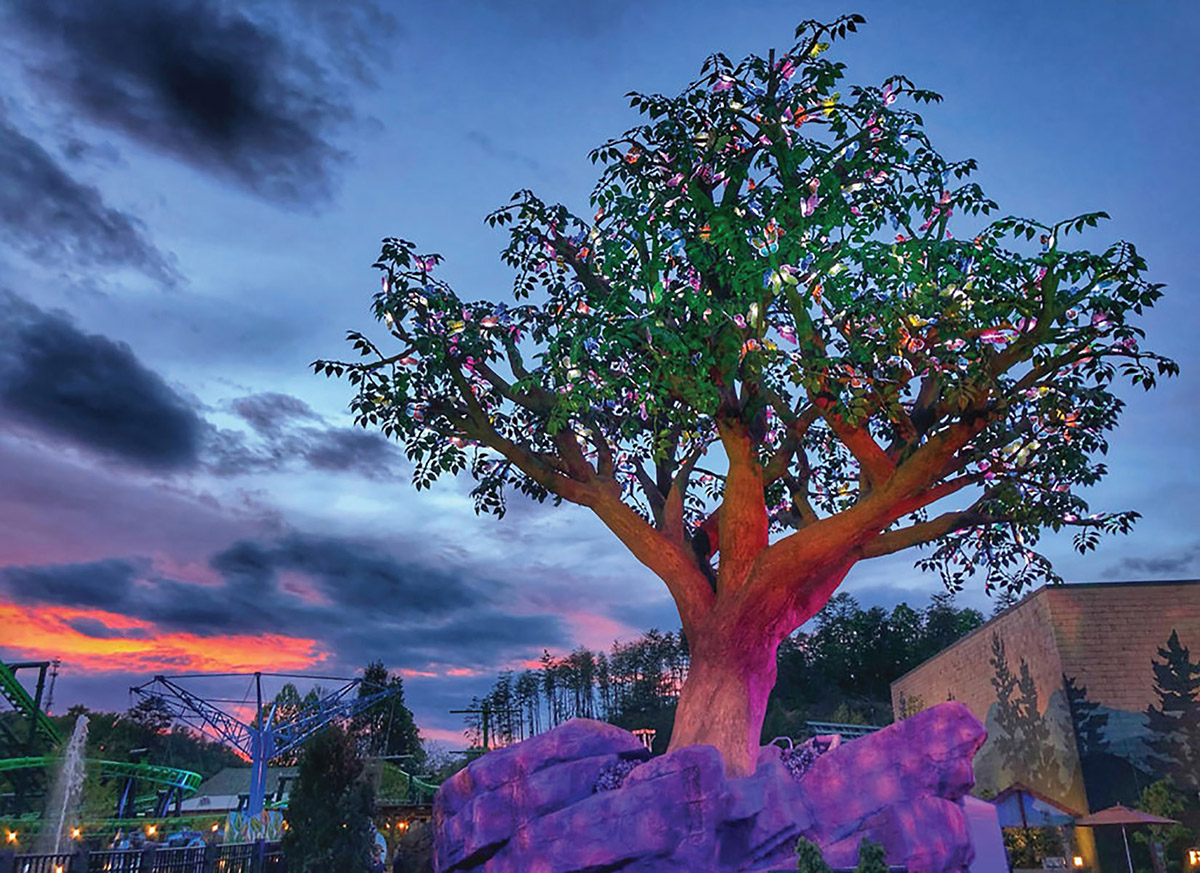 Avolites and Weigl were proud to recently partner on The Wildwood Tree, a unique installation located within Wildwood Grove at Dollywood. The centrepiece of this new land is majestic and unlike any other tree in the world.   It was designed & built by LifeFormations with creative from The Imagination House. All involved were able to bring this to life using pioneering lighting and video technologies.
Weigl designs and manufactures a range of fascinating software and hardware products for permanent theme park and interactive experience installations. The story of their collaboration with Avolites starts back in the mid 2000's where Weigl used Avolites' DMX Pearl and Azure consoles to create single universe 'single pass' moving light profiles for their animatronics shows. This shifted at the NAMM show in 2018 when things got a bit more interesting.
Mike Blasko, President of Weigl, met Stephen Baird-Smith, sales manager of Avolites, who was demonstrating Synergy on the stand – the groundbreaking feature set of Avolites' Titan and Ai V12 software that integrates lighting and video control together. As the two began discussing the ins and outs of the software in more depth, Blasko was intrigued to see how it could work for the unique applications Weigl was being challenged with from their customers and partners. Weigl's installations recently have relied more and more on lighting and video at their core and the team had been searching to find the most efficient way to generate DMX streams built partially from traditional lighting cues and partially from video. Their workflow also often relied heavily on traditional 'busking' approaches, which was what brought them to Avolites in the first place.
Although Synergy was still at its beta stage when it was introduced to Blasko, he decided to give it a shot in his upcoming projects and as product developers themselves, Weigl knew what they were getting into. From there, a strong partnership began. Weigl worked directly with engineers at Avolites and the team at Group One in US (the exclusive distributor of Avolites in the US) to start integrating Synergy into their Wildwood Grove project at Dollywood.
Using beta software on projects can be risky and requires a huge amount of support; however, it is the perfect opportunity to accelerate development. Weigl worked closely with Avolites, providing clear and concise feedback without the pressure of a live performance setting.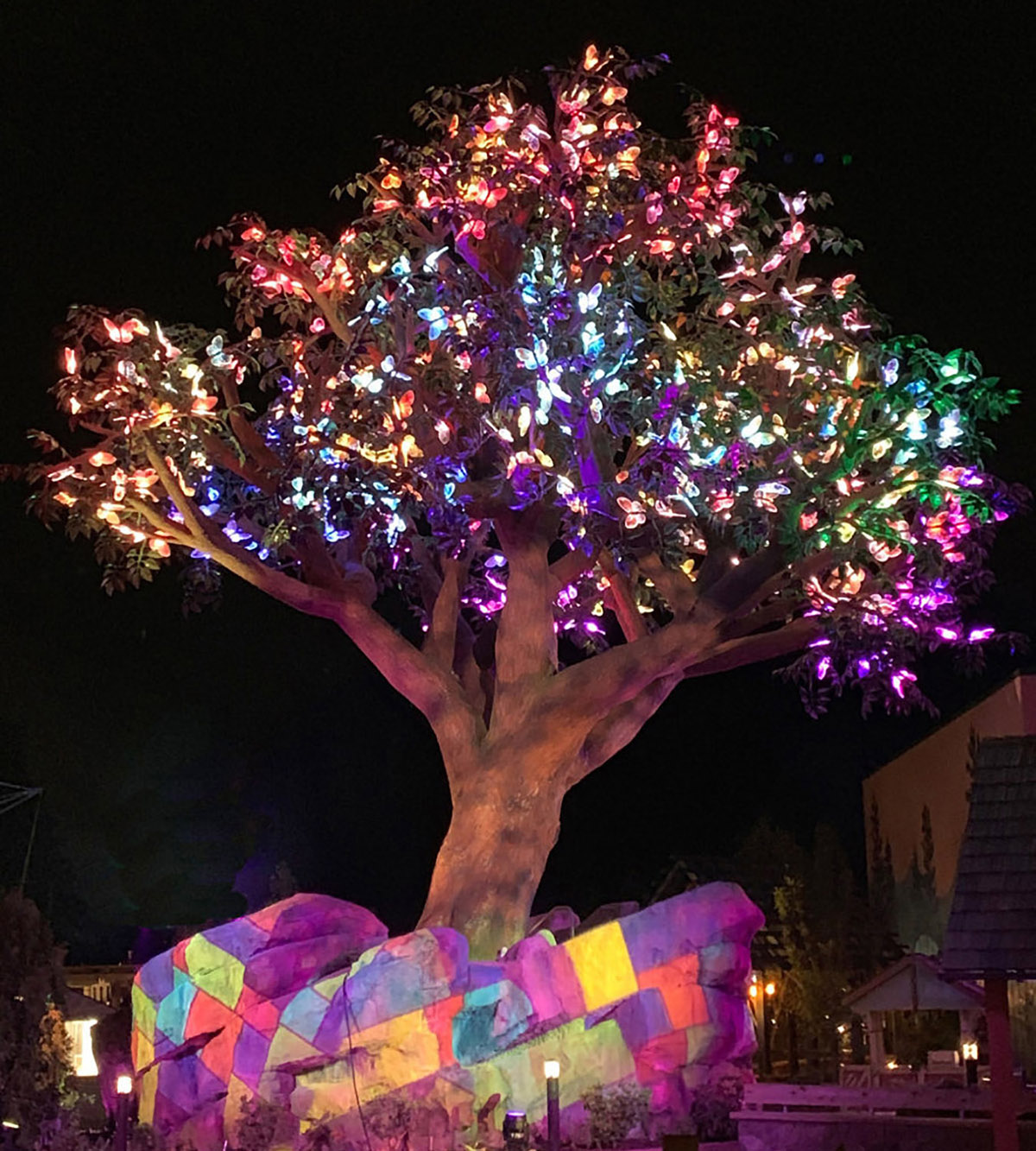 In June 2019, Wildwood Grove opened with the mesmerizing tree as the centerpiece. The unique design, built by Life Formations, stands over 50 feet tall and is covered with 650 custom RGB LED butterflies, each with pixel mapped wing quadrants. At night, they twinkle and change colour in perfect synchronisation with the music, moving and traditional lighting fixtures surrounding the tree and video and static image content within the butterfly canvas designed by The Imagination House. Here is where Synergy took centre stage.  Synergy gives you the standard workflow of lighting programming with the flexibility to bring in video into the mix at any time. This allowed the team to seamlessly interchange between using video content and traditional lighting cues to control the butterflies and create their scenes. The Synergy interface also allowed immersive layering of shape effects and busking control straight from the desk, significantly cutting down the team's programming time without limiting their creativity. The initial programming was done on the Avolites Tiger Touch II with an Ai licence, the Synergy mapping was then recorded in a cue list that could be easily set to SMPTE and network MTC timecode and then recorded into Weigl's own ProCommander® AX hardware. Weigl then used their Showforge software to synchronise the final playback of ArtNet in their hardware, and the audio playback via QSYS. This was the first time they'd used this software on such a large scale, having built it from the ground up for MacOS, and it performed exceptionally. In the end, a single Procommander® AX was able to playback all of the show content created in Titan and Synergy.
Dollywood's Wildwood Grove opened to national news coverage and all involved have been pleased with the overall result.
Blasko and the team at Weigl have since completed a variety of interactive attractions ranging from mirror mazes to educational museum exhibits, placing Synergy technology & Avolites firmly in their workflow.
www.weiglcontrols.com