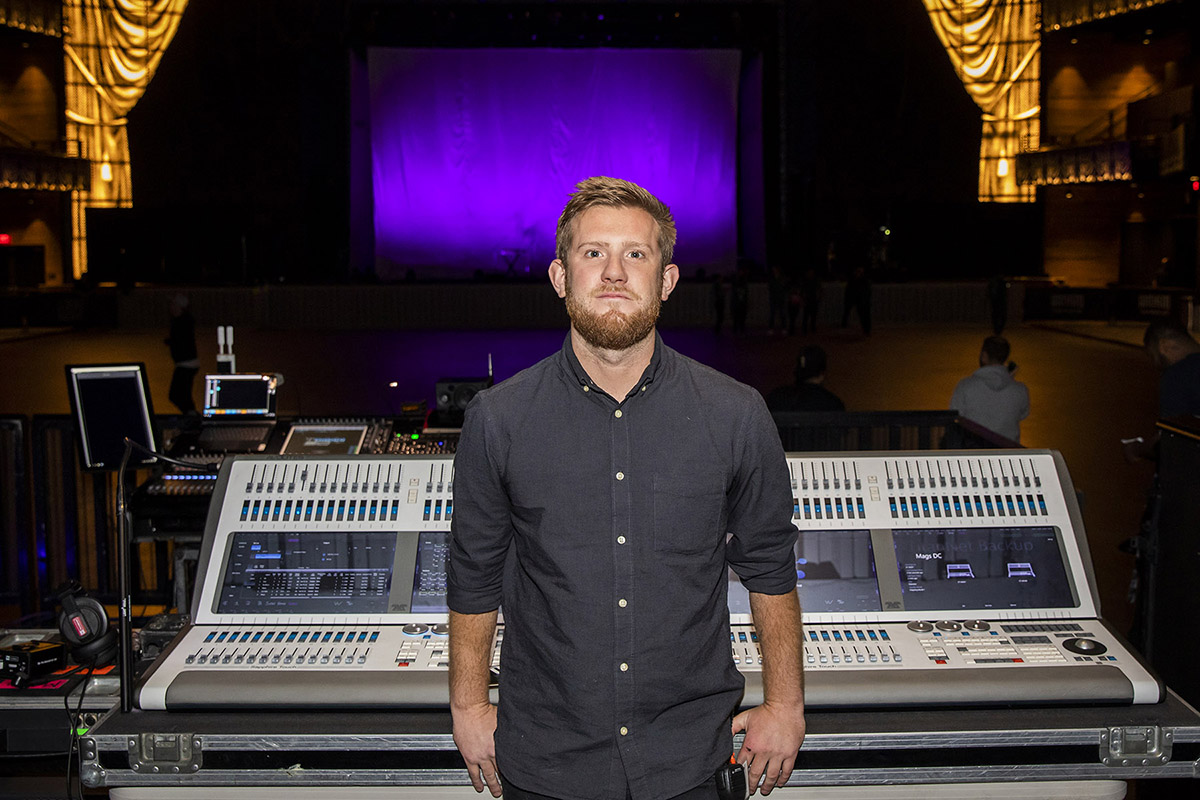 A lot has happened in Maggie Rogers' world since 2016, when a video of her demoing a then-newly-recorded song, "Alaska," for Pharrell Williams at NYU went viral. Following opening slots on major tours with both HAIM and Mumford & Sons last year, Rogers dropped her own major label debut, Heard in a Past Life, this past January, which charted in the second highest slot of the Billboard 200. Consequently, the artist has spent much of 2019 on the road in support of the album, performing a sold-out fall headline tour in such iconic venues as Nashville's Ryman Auditorium, Berkley's Greek Theatre, and New York City's Radio City Music Hall.
The "look and feel" of Rogers' tour this year has been a collaborative effort between the artist and Lighting Designer Ben Everett, who first started working with her when he lit Rogers' first-ever show in London two years ago. Having toured with an impressive roster of bands over the past five years—including Bear's Den, The Jesus and Mary Chain, and The Dandy Warhols—Everett is now part of the UK-based MIRRAD team, which has been supplying a pair of Avolites Sapphire Touch lighting control consoles for Rogers' 2019 worldwide trek.
Everett notes that he's been using Avolites lighting consoles "pretty much since I started in the live music industry," he shares. "I was lucky enough to learn on all of the early Titan software, and mainly used the Tiger Touch II and Quartz consoles to begin with. The features that kept me attracted to the desks at first were the ability to quickly create really impressive and intricate effects, and the user-friendly and multi-functional layout of the touchscreens. And while growing with the consoles over the years, the ease of being able to create cue stacks, key frame shapes, and pixel mapping really helps me in my day-to-day programming now."
While on tour with Rogers, Everett sits behind Avolites' flagship Sapphire Touch, with a twin second console used by Bodie Tureson or Chas O'Bradovich, his techs, for the show's opening acts (Empress of, Jacob Banks, Melanie Faye, or Now, Now), and as an immediately-available backup desk, should the need ever arise (it hasn't).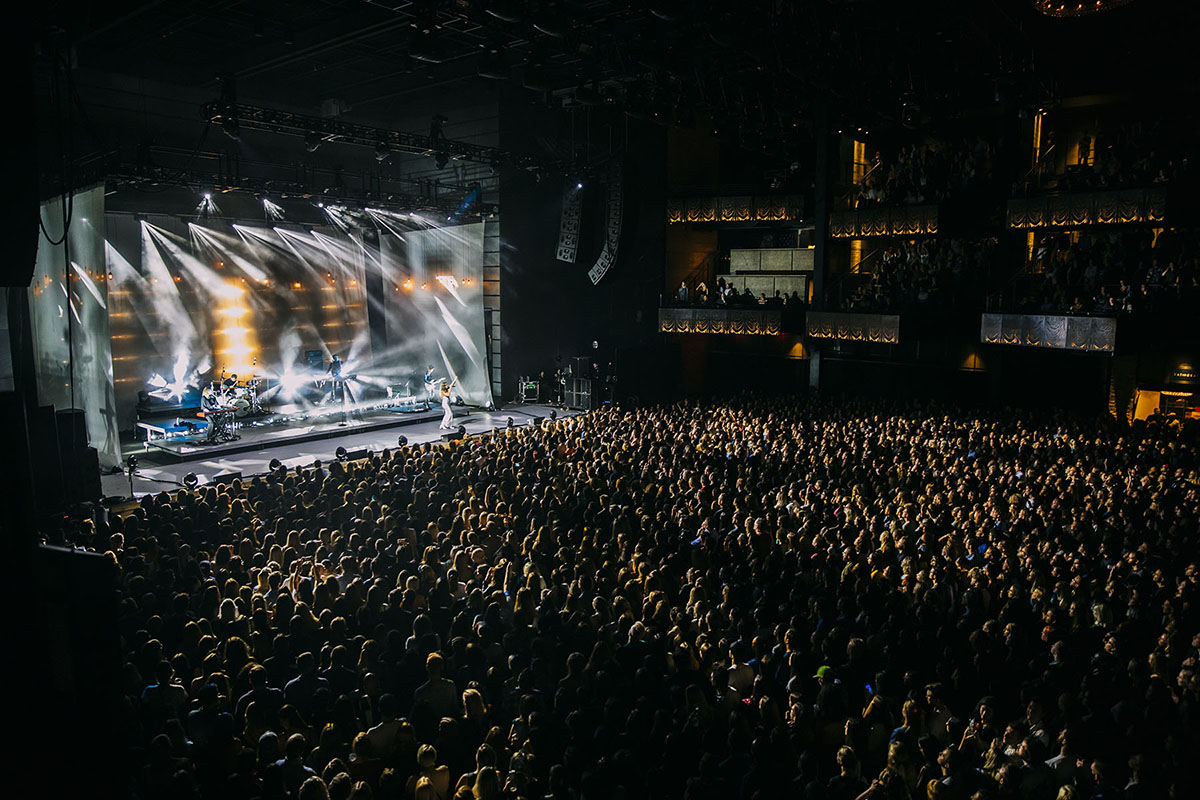 "I have used these consoles with many different types of artists and shows, and I can set them up in a way each time that works exactly as I need them to for that show," he says of his Sapphire Touch. "Essentially, I just really enjoy working on this console. I love the layout, I love the big touch screens and motorized faders, and I love knowing that I can get to wherever I need to be within the software with just a few button presses. I change layout views during the show for different songs, depending on what I want to see for that track.
"For example, sometimes I want a big view of the cue lists for songs that have a load of cues, so I can watch it all running and ensure all of the timings are on. And for other songs I might just want to look at a particular group of fixtures if I'm making some live updates to positions dependent on Maggie's positioning, and so on. All of this is done by one button press to change my layout screens, and it really couldn't be easier for me."
When originally planning the lighting design for the Heard it in a Past Life tour, Everett approached the task with a theatrical lighting mindset. "I wanted to create a 'world' for Maggie to exist in during the show, and an environment that invited and accepted the audience to be part of that," he says. "This was born out of the relationship that Maggie has with her audience, and also the persona that she creates on stage."
To accomplish this, Everett designed a "box" made out of gauze and silk drapes. At the beginning of the show, the box is fully closed, with a full-stage-width silk hung from the mid-stage truss. "For the first song, I backlight Maggie to project her shadow onto the front drape, which we then drop with a Kabuki system after the first song," the LD describes. "This then opens up 'Maggie's World' on stage and immediately invites the audience into that.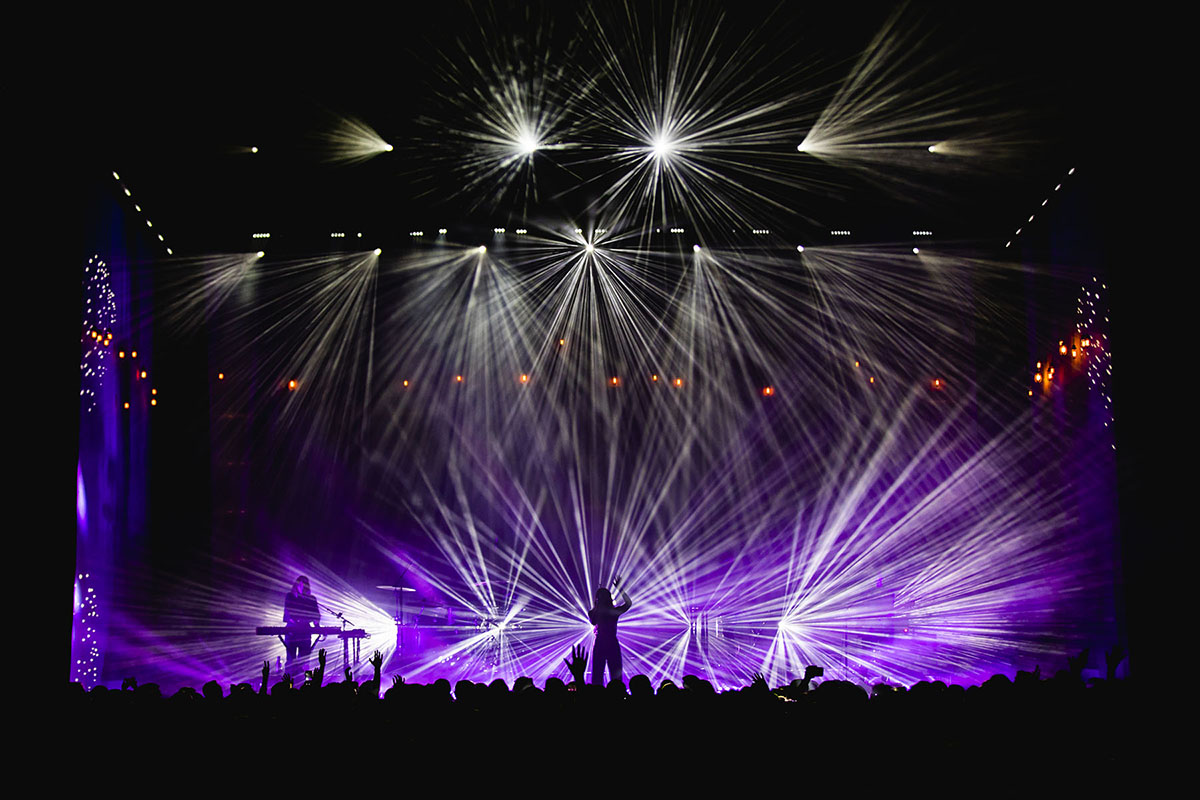 "I also implemented a staggered riser design, which allows the band to be spaced out enough to fill the stage, yet still allows Maggie to interact with them all when she wants to, and also feel surrounded by them. Maggie makes use of the four different riser levels at different points during the show, which enables me to create some really dramatic moments."
The Avolites console controls a relatively modest list of fixture models, including 25 Martin Quantum Profiles (split between the box, front truss and floor), 22 GLP X4 Bar 20s (for the box), 19 GLP X4 Washes (floor and front truss), 15 Chauvet Rogue FX-Bs (under the risers), and 45 Elation Cue Pix WW2 Blinders (hung in a grid behind the upstage silk). Although MIRRAD is supplying the Sapphire Touch consoles, Nashville-based Premier Global Production (PGP) has been serving as the primary lighting vendor, providing fixtures and other gear for all of the North American tour stops this year.
One of Everett's main design decisions that he made early on was to not use any "generic" wash lights in the air, but, rather, solely rely on X4 Bar 20 fixtures built onto the box. "I knew this would force me to use these fixtures in unusual and dramatic ways, and make sure that I kept the box lit from above a lot of the time, as I originally intended."
His favorite part of the design is the grid of WW2 Blinders that are hung on custom-made truss ladders from TAIT Towers. "These are hung behind the upstage drape, which creates an amazing diffusing effect on the light output and makes them look like a fixture that I've never seen before," he marvels. "The layout of these fixtures also allows me to create amazing pixel mapping effects over them, so much so that a lot of people have thought that it is video panels back there rather than just a simple 2-Lite Blinder.
"The other part of the design that still excites me every time I see it in the show are the 13 GLP X4 Washes placed around the floor of the stage. I use these to create shadows of the band on the different drape surfaces, and use the pixel macros within the light to create jittery effects while doing this."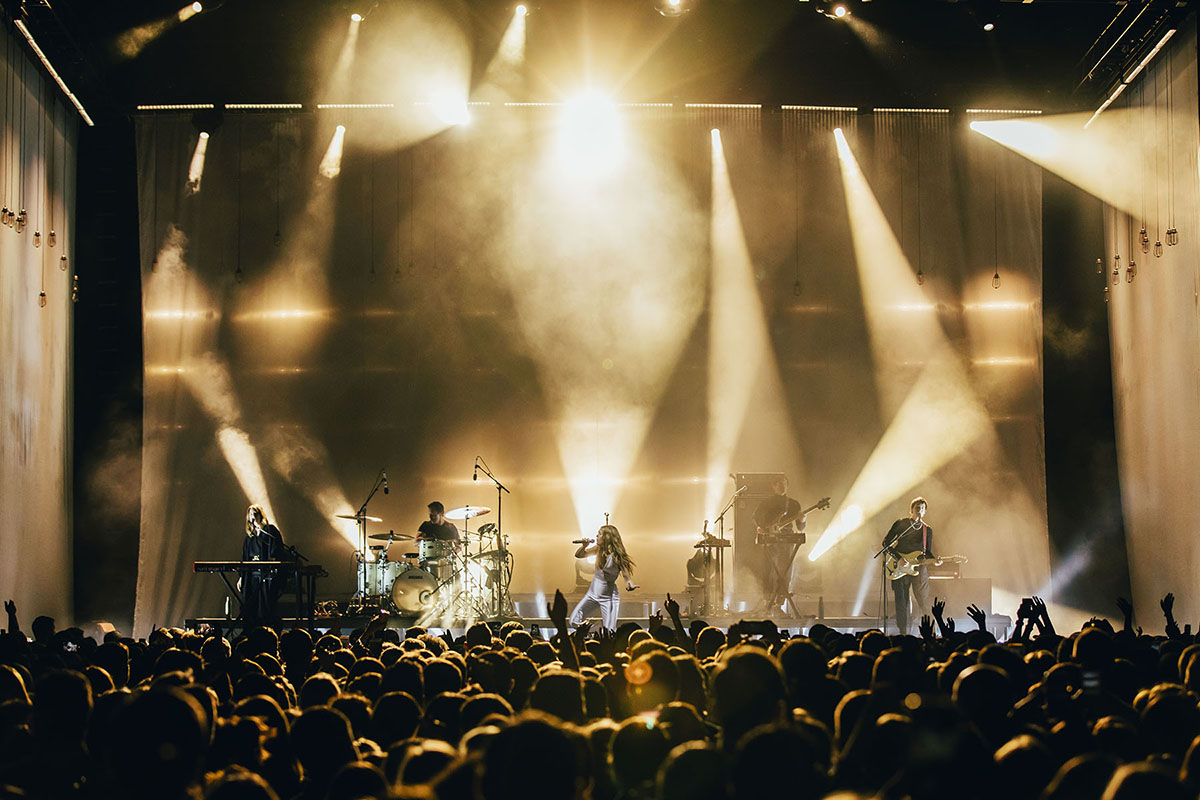 Preferring predictability over busking, Everett has the entire show pre-programmed on his Sapphire Touch, and has a page per song that contains his main cue stack, a MIDI cue stack where applicable, and then separate playback faders for front light. "I've chosen to keep my key light out of the cue stacks as Maggie is so energetic and moves so much on stage that I need to be able to react to that movement each night," he describes. "We don't use spots on the show, so I have a combination of different spot positions for the front truss, mainly for her four different center riser levels, a band key group, a Maggie wash, and a general wash from the front truss."
One Titan software feature, in particular, that he has been utilizing on this show all year is using MIDI Note Triggers from the playback rig to fire certain cue stacks. "On the songs where I use this, I have two separate cue stacks: one main and one MIDI stack. The MIDI stack is usually linked to rhythmic patterns during the songs, which fire certain effects or chases over different fixture groups. I love using this as it allows me to keep these effects completely separate to my main cue stacks while knowing that these sequences will run on point every night."
Everett beams with pride over the glowing praise that the tour has received, including the recognition for the intimacy and atmosphere that his design helps foster. "The feedback from the show has been better than I ever could have hoped for," he shares. "Maggie is so into it, audiences have loved it, and I'm really happy with how it's turned out. I have redesigned and scaled up this year's show multiple times as Maggie's popularity has grown and the venues have increased in size, and the Avolites Sapphire Touch has allowed me to very comfortably be able to do so. This most recent North American tour leg really is a bookend to the touring life of her debut album, and it's been an absolute pleasure to be involved with it from start to finish."
For more info on Maggie Rogers, visit www.maggierogers.com.
MIRRAD can be found online at www.mirrad.com.
PGB can be found at www.premierglobalproduction.com.