Avolites is excited to announce its first AVOLab partnership with Visional, a multidisciplinary experience-focused creative production agency headquartered in Atlanta, USA.
An AVOLab is a hub for expertise, training and product knowledge, around which a community of skilled practitioners is built.  
Visual control is now so much more than just a console: It comprises a networked system of control surfaces, processors, media servers and other show-critical technology. These systems can deliver breath-taking creative results, and the right setup and design is crucial to provide a good end-user experience.  
Visional, based in Atlanta with studios in Denver, Orlando, and Los Angeles, have been using Avolites lighting and video products for almost a decade. Visional specialises in creative design, live production, virtual engagements, interactive experiences, and immersive environmental installations. 
"By combining cutting-edge technology, like Avolites Ai, with years of expertise, we help our clients create mind blowing visual experiences." said Kyle Means, co-founder and Principal of Visional. "This partnership has existed for some years now, and it's nice to put it into terms where it makes sense for our partners and colleagues around the world."
AVOLab partners are experts in delivering the very best results from Avolites' extensive range of interconnected products, as well as the integration into the rest of the workflow, be that: cameras, visualisation, automation, projection and more.  They also become a part of the design and development process for future products, sharing their insights with the product teams, discussing new ideas and anticipating upcoming industry changes and challenges. 
Co-Founders Kyle Means and Jim Steurnagel have worked closely with the Avolites engineering team on their media server development, and the company has delivered many impressive projects including the multi-site Passion conference as well as countless custom projection mapping projects around the world. 
However, it is their work in providing creative problem-solving support to other dealers and integrators, which makes them such a great fit for an AVOLab partnership.  For example: Andrew Huff of Limelight approached Visional to provide media server and projection expertise at his install at a church in Tennessee, delivering a seamless Synergy system. 
"While competition might fuel other companies, at Visional, we're driven by collaboration and collective success." Managing Director Tyler Wise had to say. "At Visional, we have no competitors, only collaborators. Our clients are our partners, no matter where they sit in the industry. And this is what makes Visional so uniquely suited for the AVOLab partnership. It's all about a successful mind-blowing experience in the end, and we work with the entire project team to make that happen."
Avolites Sales Manager, Stephen Baird-Smith explains "Kyle, Jim and Tyler at Visional have built a fantastic team of creative technical people, united by a passion for delivering spectacular shows and solving problems with technology. They deliver what they say they will, and have fun doing it."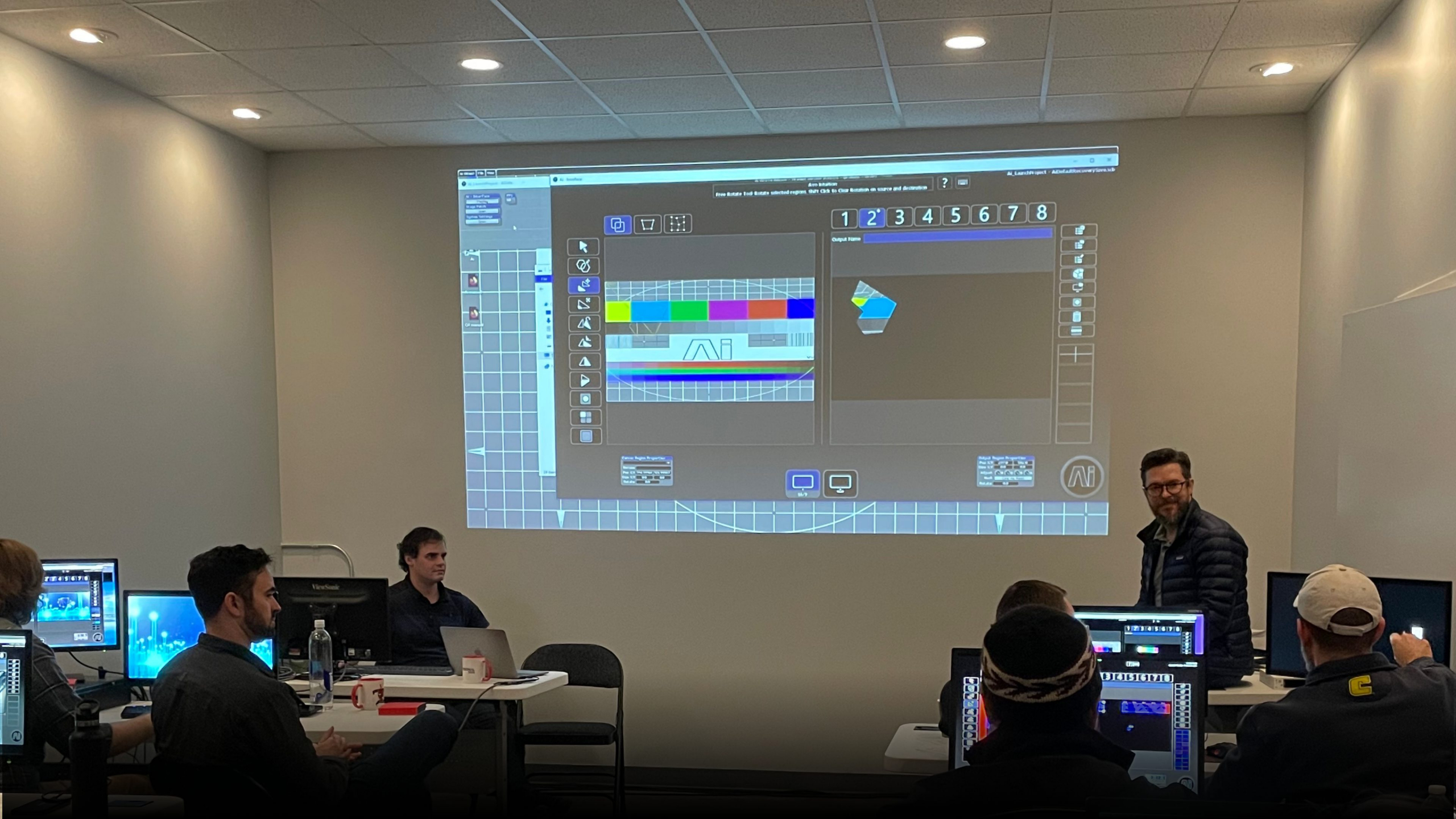 The partnership is already underway, with Visional hosting a week of Ai and Titan training, plus a Synergy workshop back in December, alongside Avolites' exclusive US distributor Group One. The technical team at Visional also hosted open Avolites Ai software and design training sessions during USITT in Baltimore earlier this month, as part of the Media Lab hands-on workshop sessions, open to all attendees of the show. Visional's Senior Integration Engineer Zach Baldry led the trainings, with great interest from students who are the future of design and technology. 
Avolites plans to launch more AVOLab partnerships in other territories around the world.